MOUNTAIN FLING

Left to right (in either picture!):
Ed Ogle, John Hollandsworth, Kathie Hollandsworth, Jim Lloyd
Mountain Fling is a four-piece band based in Southwest Virginia that relies heavily on traditional old-time material and delves into the recent past for variety. We bring freshness to our sound by playing instruments that were an important part of the pre-war mix but are now a little "to one side" of the usual old-time string band -- so we're a little off-center in more ways than one! We have a great time playing together and sharing our music with everyone.
Among the four of us, we play and teach autoharp, guitar, banjo, hammered dulcimer, harmonica, bass, and fiddle, and we sing (except for John, who never sings). We perform often in our region, and we've given workshops and concerts for the Charlotte (NC) and Grayson County (VA) Folk Music Societies, the Historic Crab Orchard Museum in Tazewell (VA), the Sedalia Center in central Virginia, area coffee houses, community concert series, and regional festivals. In July 2000 we were featured performers at the Mountain Laurel Autoharp Gathering in Newport, Pennsylvania, and our takeover was complete. We are regularly featured in the Mini-Mountain Laurel Series in Newport, PA, every other year or so. We also invaded Pennsylvania in 2001 and 2005 for the Chestnut Ridge Dulcimer Festival in Greensburg. Some of our favorite summer gigs that we do once a year are the weekly mountain music interpretive programs at Roanoke Mountain Campground on the Blue Ridge Parkway, the Bisset Park Series in Radford, Virginia, and other community concerts. Private performances include after-dinner and benefit concerts, convention dates, and background dinner and reception music.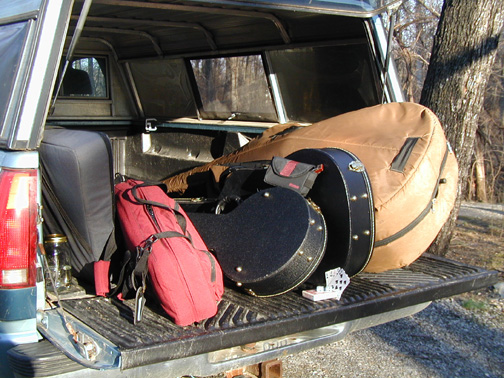 TUNES FROM THE TAILGATE (2004): Our newest offering, CD only. $15. A wide variety of tunes played in the old-time style by John (autoharp & guitar), Kathie (bass, hammered dulcimer, and vocals), Jim Lloyd (banjo, guitar, bass, and vocals) and Ed Ogle (harmonica, guitar, and vocals). Includes John Lover's Gone, Home by the Sea, Don't Let Your Deal Go Down, Come Dance and Sing/Red Haired Boy, Poor Orphan Child, Wreck of the 1256, Captain Kidd, Angelina Baker, Otto Wood the Bandit, Copper Kettle, Country Waltz, Whiskey Mountain, Take Me Out to the Ball Game, If I Lose, and When I Grow Too Old to Dream.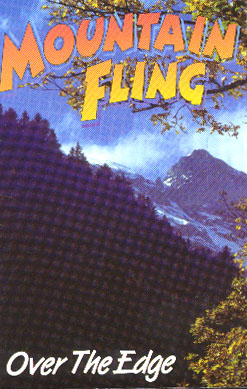 Our first band recording is called "OVER THE EDGE ," and includes a mix of instrumentals and songs, including Baltimore Fire, Yellow Rose of Texas, Snow Deer, Sugar Hill/Rock the Cradle Joe, San Antonio Rose, Bluebird Song, St. James Infirmary, Ragtime Annie, When the Roses Bloom in Dixieland, Alabama Jubilee, Just Because Medley, and Anchored in Love. CD $15; cassette $5.
Contact Information -- for Bookings and More Info
Mountain Fling
700 Tower Road
Christiansburg, VA 24073
Phone: 540-382-6550
E-mail John, Kathie, Jim, or Ed